Legionella Control Association Registration
Aqua Legion UK Ltd is a Legionella Control Association Registered Company. We have been registered with the Legionella Control Association since our incorporation and we continue to follow both the Code of Conduct for Service Providers and the LCA Standards For Service Delivery.
---
We are registered for and only supply services for the following categories
1) Legionella Risk Assessment Services for – Hot and Cold Water Systems, Evaporative Cooling Systems, Process and all Other Water Systems.
2) Hot and Cold Water Monitoring and inspection Services – All systems.
3) Independent Consultancy Services.
4) Legionella Training Services.
5) Legionella Analytical Services – Sampling, Laboratory Analysis, Interpretation of results.
---
Underpinned by Competency
Our Managing Director and Senior Consultant has not only been a Member of the Water Management Society since 2003, but he has also been elected as a Member of  the Management Council between 2008 and 2019 when he had to step down to pursue further studies . In 2016, Dean was also elected as a Fellow of the Water Management Society for his contribution to industry. Dean is educated to Master's level and having completed the full Water Management Society and Legionella Control Association Training Matrix over the past 16 years, clients can be rest assured that we implement best practice at all times.
---
Our Senior Consultants Water Management Society Membership Certificate and Other Awards and Recognition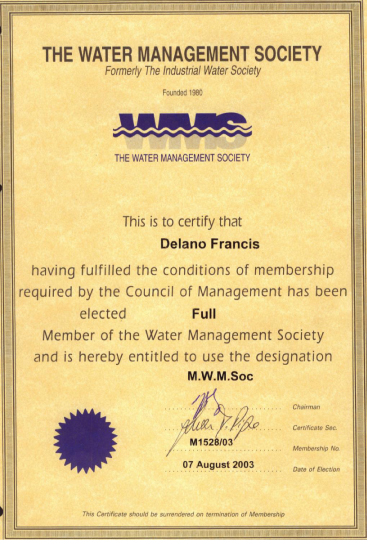 ---
In 2008, our Senior Consultant was a Finalist and commended as Business Person of The Year in the Natwest Sponsored Archant Thames Gateway  Business Awards  2008. 

---
In 2004 Our Senior Consultant received an Award from Ford Motor Company for his personal effort towards Engineering Excellence. He was involved in the provision of indoor air quality monitoring and water quality monitoring to cover many Ford sites including the site which houses the two large wind turbines along the A13 in London.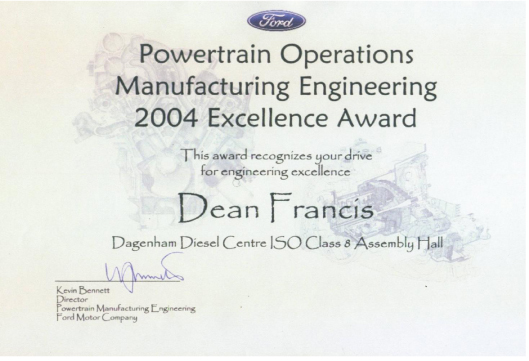 ---
Aqua Legion UK Ltd is committed to offering effective and priority Independent Legionella Risk Assessment Services throughout London.